Newsletter Issue 01 (Apr 2018)
Dear readers, welcome to the inaugural edition of the Tsao Foundation's Longevity Times and thank you for your attention!
This newsletter is meant for us to stay connected with you - the volunteers, supporters, service partners and staff - who make our work possible. Your support, generosity and commitment enable us to strive together for a better way of ageing that is dignified and purposeful, and of caring for older persons when they are frail or vulnerable so that increasing longevity enriches all our lives, at every age.
As we share these accounts of the activities and projects at the Foundation, we are in fact creating a document of your contributions and their fruition.
In this first edition of our newsletter, you will go through some of the exciting events that took place from late last year onwards to the first quarter of 2018. One of the key highlights has to be Asian Development Bank appointing the Foundation as a centre of excellence and knowledge partner in the area of eldercare.
Moving forward, we aim to bring you more feature stories and event updates in the subsequent issues of this quarterly newsletter. Please do give us your feedback and suggestions by contacting us at info@tsaofoundation.org
Please do not forget to also follow us on Facebook and on our website.
I hope you enjoy this first issue - happy reading!
Best wishes,
Chronos Kwok
Editor
Asian Development Bank appoints Tsao Foundation as a centre of excellence and knowledge partner in eldercare
The Tsao Foundation is proud to have been appointed by the Asian Development Bank (ADB) as a centre of excellence and knowledge partner in its US$2.5m project on "Strengthening Developing Member Countries' (DMC) Capacity in Elderly Care".

View Article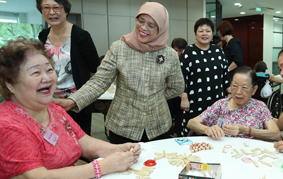 President Halimah Yacob Visit
Shortly after her investiture, President Mdm Halimah Yacob, paid a visit to the Tsao Foundation to learn more about community-based aged care and active ageing programmes in the country and to spend some quality time with the elderly. The Foundation hosted her on 20th Nov 2017 at its Community for Successful Ageing (ComSA) Centre at the Whampoa Community Club.

View Article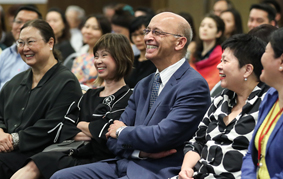 Tsao Foundation Experts Series – Dr Alex Kalache, "Smart, Inclusive Cities"
In 2017, the flagship Tsao Foundation Experts Series hosted Dr Alex Kalache who was previously director of the World Health Organisation's global ageing programme in Geneva (1995-2008). He played a leading role in developing the framework for the WHO's Global Age-Friendly Cities, which has become a growing movement as more countries seek to deal with the effects of population ageing.

View Article
Speaking up for Older Women at CEDAW 2017
The Tsao Foundation and the Women's Initiative for Ageing Successfully (WINGS) submitted a joint report on the Status of Older Women in Singapore at the 68th session of the United Nations Committee for the Convention on the Elimination of All Forms of Discrimination Against Women (CEDAW).

View Article
Seniors Empowered! 2017 – NCSS and Tsao
The National Council for Social Service (NCSS) partnered Tsao Foundation to present the conference, "Seniors Empowered! 2017", on 3 November 2017. As its title suggests, its objective was to find ways to create a culture of empowerment that would promote the agency of older persons.

View Article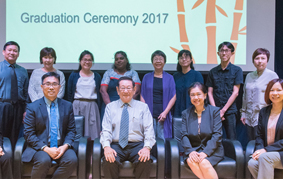 Graduation time for Singapore's first Specialist Diploma in Gerontological Counselling
Congratulations to the inaugural batch of graduates from the first Specialist Diploma in Gerontological Counselling to be offered in Singapore. A total of 10 graduates received their certificates at a simple ceremony on 26 October 2017.

View Article
Tsao Foundation Chinese New Year Lunch for elders
A tradition since 1995, Tsao Foundation organised its annual Chinese New Year Lunch for elderly clients of all our services in the Hua Mei Centre for Successful Ageing (HMCSA) and Community for Successful Ageing (ComSA) on 10 March 2018.

View Article
ING-Hua Mei EPICC outing to National Gallery
8 Nov 2017 was definitely not a normal day for some 49 elders and staff from Hua Mei EPICC (HMCSA) who had the opportunity to visit the National Gallery and went on a guided tour of the Former Supreme Courts.

View Article