Primary Health Clinic
Hua Mei Clinic is an elder-friendly, primary health clinic. On the surface, it looks like any other GP clinic. However, more than treating acute and episodic illnesses, its aim is to equip mature adults with the knowledge and skills to take charge of their own healthcare over the life stages. We help our clients to optimise their health and wellness through health promotion, disease prevention and continuous management of chronic disease, if any occurs.

Previously known as 'Hua Mei Seniors Clinic', we were the first outpatient clinic in Singapore to offer primary geriatric care at our launch in September 1996.
Approach:
We make it a priority to spend the time necessary to fully inform and educate our clients on their medical condition and treatment plan, as well as self-care advice. Typically, each appointment is allotted at least 15 minutes.
As the primary care provider, we help clients to avoid non-essential visits to medical specialists, hospital admissions, and early institutionalized care, thereby promoting more efficient resource use in healthcare.
Even within the limitations of a commercial office space, the layout and traffic flow in the Clinic have been planned with functionality and the ease of access for older persons in mind. Hua Mei Clinic was designed specifically for the mature population and a pilot site for the World Health Organisation's Age Friendly Primary Care Centre initiative.
We provide:

•
affordable medical care for acute and chronic conditions
•
proactive, continuous health management over the lifecourse
•
supervised physical exercise for improving functionality (using on-site gym at HMCSA)
We serve persons who are:

•
adults aged 40 years and above.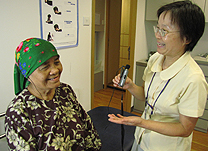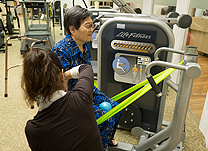 How to refer:
We accept referrals from hospitals, community service agencies, volunteers, families and individuals. Walk-in clients are welcome, but visits by appointment are preferred.
Fees:

•
Medical Consultation: From $30 per visit (Depending on the length of consultations)
•
Full Geriatric Assessment : From $148 (Depending on lab tests required)
•
PA and CHAS government subsidies apply to valid card-holders