Counselling and Coaching
Changes in health, physical capacity, social status and relationships which become acute in later years have a strong impact on emotional wellbeing. The role of the Hua Mei Counselling and Coaching (HMCC) is to help mature adults deal with them from a positive and life-affirming perspective so that they can achieve their life goals and potential. We also support family caregivers of older persons, especially for them to engage in self-care and to minimise their stress. To practising social workers, counsellors and aged care professionals, we offer collaborative opportunities in fieldwork and research.
Approach:
Ageing well is a multi-dimensional process in which emotional health and positive mindset have a key role. Counselling and Coaching have been a part of the person-centred holistic healthcare offered by the Hua Mei Centre for Successful Ageing since its inception, although a formal Counselling and Coaching programme was set up only in 2009 with pilot funding from the National Council of Social Service.
We work with older persons, and with their family members and caregivers as part of their emotional milieu, and as independent clients. Some of them may be homebound for medical reasons, or because they cannot make other care arrangements. We therefore make home visits when necessary.
We provide:

•
Individual and family counselling (at Hua Mei Centre or client's home when necessary)
•
Individual or small group coaching for mature adults in emotion management, inter-generational relationship-building and communication skills
•
viable, sustainable care plans developed in collaboration with the elder, his family and community care partners to support his living at home
•
Life skills coaching programme - a skills-based programme to equip elders and caregivers in relationship building, conflict management, communications and self-care:

| | |
| --- | --- |
| i. | Successful Relationship Series (with client's spouse, adult children, in-laws) |
| ii. | Personal Development Series (for effective emotional management) |
| iii. | Care Supporters Wellness and Support Series (effective communication with families and professional care providers, self care for care supporters) |
We serve persons who are:

•
adults aged 50 years and above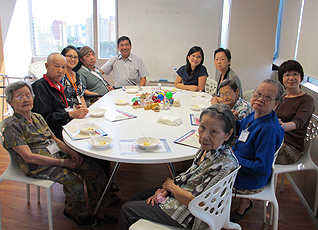 How to refer:
We accept referrals from hospitals, community service agencies, volunteers, families and individuals. Service is by appointment only.
Fees:

•
Counselling – on a sliding scale based on income, up to $50 per session.
•
Life skills coaching programmes: fees for four sessions of small group coaching range from $40-$100 per person.