Research, Reports & Viewpoints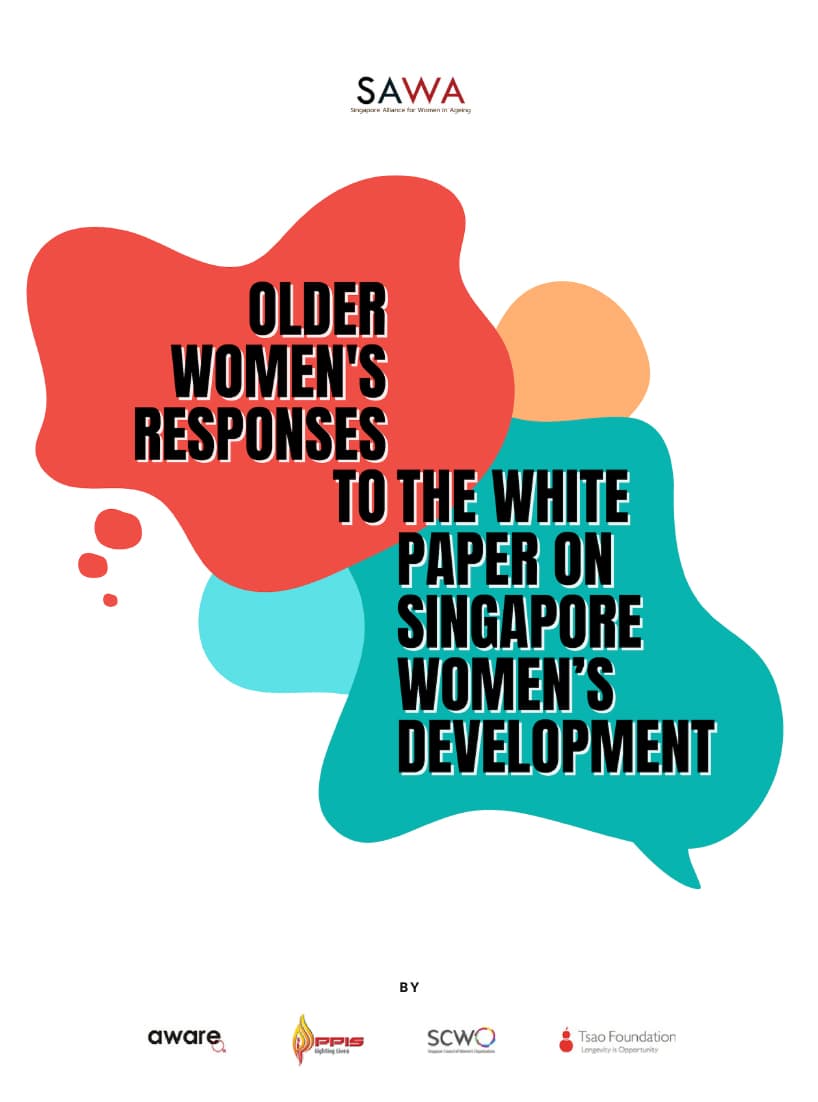 Being stereotyped as "slow" and "less productive" at the workplace. Facing financial strain due to rising caregiving and healthcare costs. Experiencing isolation and loneliness as a result of living alone. These were some of the concerns raised by older women in a series of focus group discussions conducted by the Singapore Alliance for Women in Ageing (SAWA) in 2022 and 2023.

Established in 2018, SAWA consists of AWARE, Singapore Council of Women's Organisations, Singapore Muslim Women's Association (PPIS) and the Tsao Foundation, and aims to raise awareness about the gendered nature of ageing in Singapore.

SAWA's latest report, titled "Older Women's Responses to the White Paper on Singapore Women's Development", is a follow-up to the alliance's 2021 submission to the Government's national review of women's issues. Last year, SAWA celebrated the White Paper on Singapore Women's Development as a signifier of the Government's commitment towards achieving gender equality. However, SAWA noted the White Paper's lack of focus on older women, observing that the proposed action plans were largely aimed at a younger demographic.

To better understand the needs and challenges of older women, SAWA conducted four focus group discussions between July 2022 and February 2023, each in one of Singapore's official languages (English, Malay, Mandarin and Tamil). In total, 170 women aged 55 and above attended to discuss the challenges they faced navigating Singapore as older women. One topic that was widely discussed was age-based discrimination in the workplace. Many older women recounted that they had been offered fewer promotion opportunities and job responsibilities as they aged. This made them feel excluded and undervalued, thereby impeding their ability to actively participate in work.

Other concerns that participants raised related to caregiving and its impact on their retirement adequacy, access to community support, and health and well-being.

During the focus group discussions, participants were also encouraged to share ideas for the Government to address these challenges. Some recommendations included:
Strengthening policy protection for re-employed workers in terms of remuneration and standards of workplace practices;
Enhancing subsidies for caregiving, healthcare and consumables for both caregivers and care recipients;
Reviewing the criteria for healthcare and caregiving subsidies regularly in tandem with the population's profile;
Providing information and signs in vernacular languages in all healthcare settings to minimise confusion and delays;
Developing more programmes and opportunities in schools to forge stronger inter-generational bonds and tackle stereotypes against older persons.
Read about the detailed findings and recommendations in SAWA's report
here
.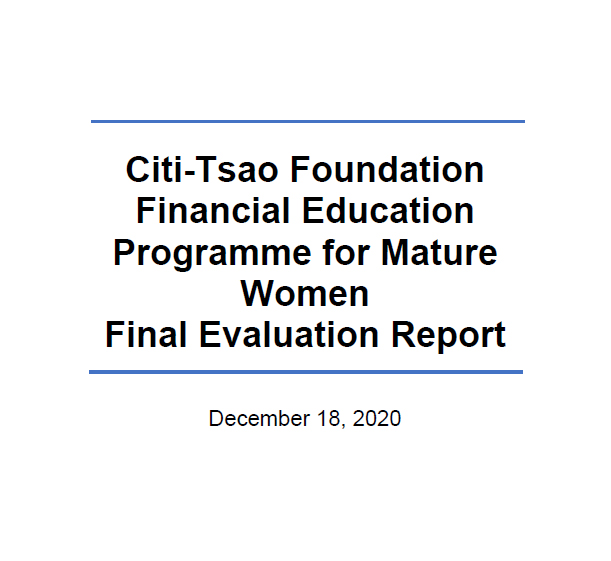 Citi-Tsao Foundation Financial Education Programme for Mature Women - Final Evaluation Report

In 2007, Tsao Foundation with support from Citi Foundation developed and launched a financial education programme targeting Singaporean women over 40 years of age. The Citi-Tsao Foundation Financial Education Programme for Women seeks to address the financial vulnerability of low income women and highlight to key policymakers the critical need for a public policy to ensure the financial and social security of older women in Singapore. This evaluation builds on an initial 2013 evaluation study, using data gathered immediately before and after the programme, which found an immediate positive impact on some self-reported outcomes related to older women's financial independence, specifically with respect to understanding financial products and services, consumption smoothing within the household, and planning for the silver years, although debt management remained an issue for participants at the time of the evaluation. This final report extends (but does not reproduce) an earlier midterm evaluation which report the qualitative findings in detail. In this report, we provide the complete overall findings of the mixed-methods longer-term assessment of the programme and its impact on participants.
Read it here.

Our researcher, Dr Joanne Yoong, Senior Economist, USC Center for Economic and Social Research, presented the overall findings of this findings via a webinar. In conjunction with the Year of Celebrating SG Women in 2021, we invited three other women - Ms Mariam Jaafar, MP for Sembawang GRC for Woodlands, Ms Ginarita Ng, Citi-Tsao Foundation Financial Education Programme alumnae and financial blogger Ms Dawn Cher, to join Dr Yoong in a panel discussion. Moderated by Ms Susana Concordo Harding, Senior Director, ILC-S, the panel talked about how women across all age groups need to enhance their financial resilience to achieve financial security, in light of the longer life expectancy of women in Singapore. We are also joined by our Guest-of-Honour, Mrs Josephine Teo, Minister for Manpower and Second Minister for Home Affairs, who will deliver the welcome remarks.

For a copy of the research findings by Dr Joanne Yoong, click here.
To watch a replay of the webinar, go to https://youtu.be/CzM0qZvl1sw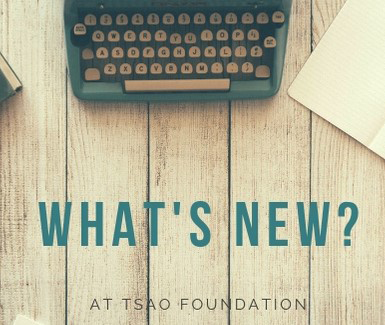 Book Launch:- Within the next 35 years, there will be more than 70 million older women in Southeast Asia. But are these older women financially prepared for old age? Do they have sufficient resources to meet their financial needs in old age?

Concerned over issues ranging from family support, pensions and savings, employment and caregiving effects on older women, Tsao Foundation went on an 18-month long study of the "Financial Security of Older Women: Perspectives from Southeast Asia". The result - a report suggesting that women's financial security in old age is the outcome of gender disadvantages earlier in women's lives (whether it is lower labour force participation or lower levels of education), underlining the need for policy interventions much before women actually get old.

The report argues that without a change in entrenched gender norms on work and caregiving, future cohorts of women will also be at risk of financial insecurity in old age. For change to occur, there is an urgent need for policy interventions that involve multiple stakeholders – from individuals and community to governments and business.

The complete eBook is now available for downloading. Please request for it here.
BUILD YOUR OWN NEST: Singapore's first study on matched savings schemes for lower income, older women

Tsao Foundation released the findings of its study on matched savings schemes for lower income, older women, titled BUILD YOUR OWN NEST (BYON) on 20 Sept 2018. The first of its kind in Singapore, it arose amid a growing concern that women in Singapore, whose average lifespan of 85 years exceeds that of men by almost 5 years, may not have sufficient financial resources of their own for their healthcare expenses in their later years.

Conducted by Professors David Chan and Benedict Koh, the study was successful for having a high retention rate, with 70% of the participants staying on the savings schemes throughout the 18-month duration. The findings show that the success of matched savings schemes is related to the amount saved, the matching ratio and how that is framed.

The researchers' summary of the study is found here.

Supported by the Tote Board, with additional funding from Citi Foundation and Tsao Foundation, the BYON pilot continues the work undertaken by ILC-S to enhance the wellbeing and financial security of older women. That includes the successful implementation of the Citi-Tsao Financial Literacy Programme for Women and its adoption for dissemination by the People's Association Women's Integration Network.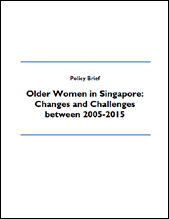 In 2005, the Tsao Foundation commissioned a report together with AWARE, on the status of older women in Singapore, highlighting key disparities between men and women at older ages, pointing towards the need for gender mainstreaming in aging policy.

Ten years later, the population of Singapore continues to age rapidly. In 2004, the old-age support ratio (the ratio of persons aged 20-64 years to persons aged 65 years and over) was 7.6. Ten years later, this ratio has fallen to 5.2, with the proportion of elderly (65+) increasing from 8.1% to 10.5% between 2005 and 2013 alone. At the same time, supported by the Ministerial Committee on Ageing (MCA), Singapore has been working to realize the vision of Successful Ageing as first proposed in the 1990s, through reforms aimed at improving the employment and financial security of older persons, providing holistic and affordable healthcare and eldercare, enabling aging in place and promoting active aging.
Read it here
Singapore is rapidly ageing as a society. In 2013, the resident population in Singapore aged 65 and over comprised more than 10% of the population. By 2030, that figure will almost double to 19%.
'A Profile of Older Men and Women in Singapore 2014', prepared by the Tsao-NUS Ageing Research Initiative, National University of Singapore and the Tsao Foundation's International Longevity Centre Singapore compiles data from the Panel on Health and Aging of Older Singaporeans (PHASE, Duke-NUS, NUS), Singapore Department of Statistics Census of Population 2000 and 2010; Singapore Registry of Births and Deaths 2006; Singapore Department of Statistics General Household Survey 2005; Singapore Ministry of Manpower Report on the Labor Force in Singapore 2010; and the Population Division, Department of Economic and Social Affairs of the United Nations Secretariat, and provides brief analyses of the key patterns. Read it here
The earlier report, 'A Profile of Older Men and Women in Singapore 2011', can be found here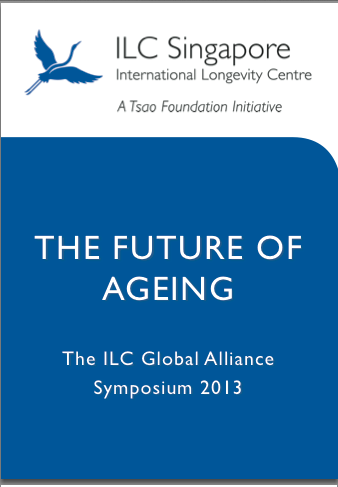 'The Future of Ageing' report comprises the papers presented at the ILC Global Alliance Symposium held in Singapore on 21 June 2013. The outlook on long-term care financing, health and healthcare, empowerment and social participation, and lifelong learning was provided by ILC Centres in Argentina, Brazil, Dominican Republic, France, India, Israel, Japan, Netherlands, South Africa, USA and UK. Professor Mukul Asher, Professorial Fellow from the Lee Kuan Yew School of Public Policy in Singapore, delivered the Dr Robert Butler Memorial Lecture, focusing on the future of income security.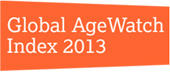 HelpAge International's Global AgeWatch Index 2013 is the first ever tool to measure the quality of life and wellbeing of older people around the world. What is exciting and new about the index is that it looks well beyond health and income, to employment prospects and education of older people. It explores how supported they feel by family, government and community.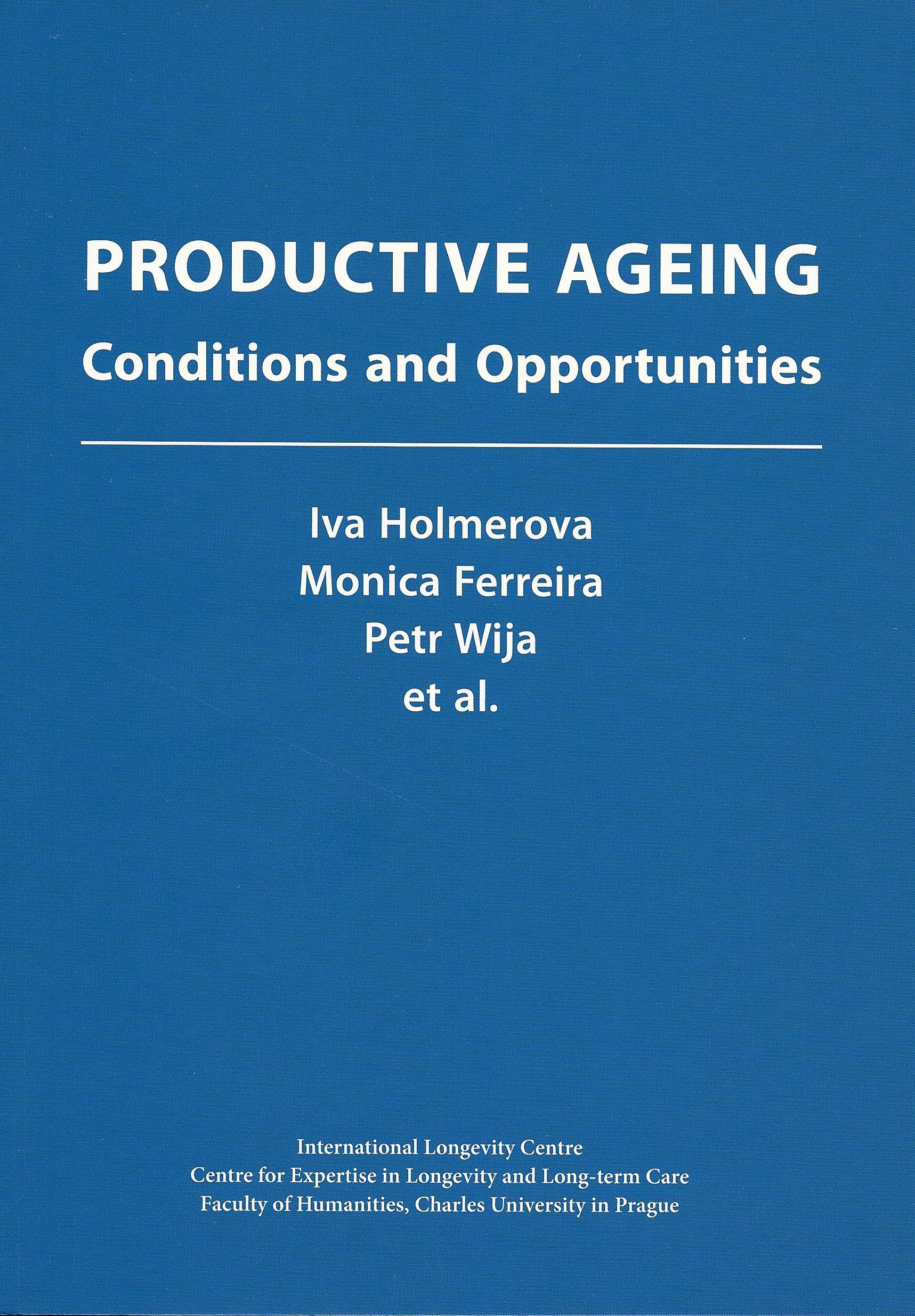 The Centre of Expertise in Longevity and Long-term Care – International Longevity Centre of the Czech Republic has issued a new monograph titled "Productive Aging: Conditions and Opportunities".