Home Care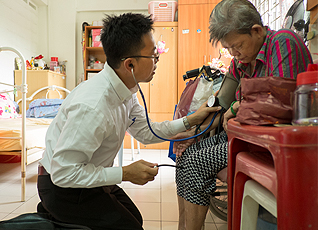 Hua Mei Mobile Clinic (HMMC) offers primary healthcare for homebound disabled or frail older persons at their homes, to enable them to live at optimal health and remain in the community for as long as possible. Established in 1993, HMMC was the first medical homecare programme in Singapore, and for a very long time, the only one in the country serving frail elders with poor financial and social support.
Approach:
HMMC uses a team-management model comprising a doctor, a nurse and a social worker to jointly assess, formulate and monitor a care plan for the client. Taking a person-centred, care management approach, we look not only at the medical health but also the social support environment of the client.
The family members and caregivers are considered key partners in the person's overall health management, and we extend our services to provide them with the training, guidance and support that they need
We provide:

•
home visits by doctors and nurses
•
coordination of support services such as meals delivery and financial assistance
•
arrangement of other homebased and health services, hospital admissions, and nursing home placement when necessary
We serve persons who are:

•
aged 60 years and above
•
homebound or have great difficulty leaving home for regular medical care
•
residents of Alexandra, Brickworks, Bukit Ho Swee, Bukit Merah, Chinatown, Commonwealth, Gillman Heights, Havelock, Henderson, Holland, Outram, Queenstown, Spottiswood Park, Tanjong Pagar, and Telok Blangah.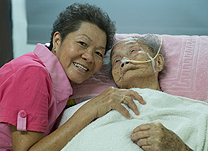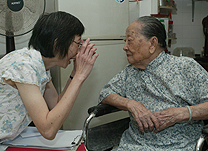 How to refer:
We accept referrals from hospitals, clinics, community agencies, volunteers and families. Please call us for a referral form. Service is by appointment only.
Fees:
Fees are charged on a sliding scale based on income.