Volunteer With Us
Through volunteering, we make the lives of others and ourselves richer and more meaningful.
We have opportunities for direct work with older persons, housekeeping, training and administrative jobs.
The principal beneficiaries are older persons in the community, living alone or with limited social and financial support, while burdened by ill or degenerating health.
The duration of the commitment varies according to the scope of the task, and your availability.
For certain jobs, training is provided with a required service commitment on your part. Individual as well as group or corporate volunteers are welcome.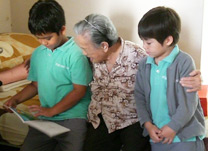 Please contact volunteer@tsaofoundation.org to discuss possible engagement options.