Caregiving Can Be a Joyous Journey
By Wang Jing & Lim Yeng Peng
The various care teams of Hua Mei Centre for Successful Ageing (HMCSA) conducted two runs of focus group discussions with caregivers of their clients back in 2019 to understand what sustains and motivates caregivers throughout their journey, and to identify resources that caregivers rely upon, to inform how we can better support our current and future caregiver community.
The Profiles
A total of 18 clients participated in the discussions. As the Counselling & Coaching (C&C) team attends to clients from both Community for Successful Ageing (ComSA) and HMCSA, the participants are from both catchment areas of Whampoa and Tiong Bahru. Profile of the caregiver participants are as follow: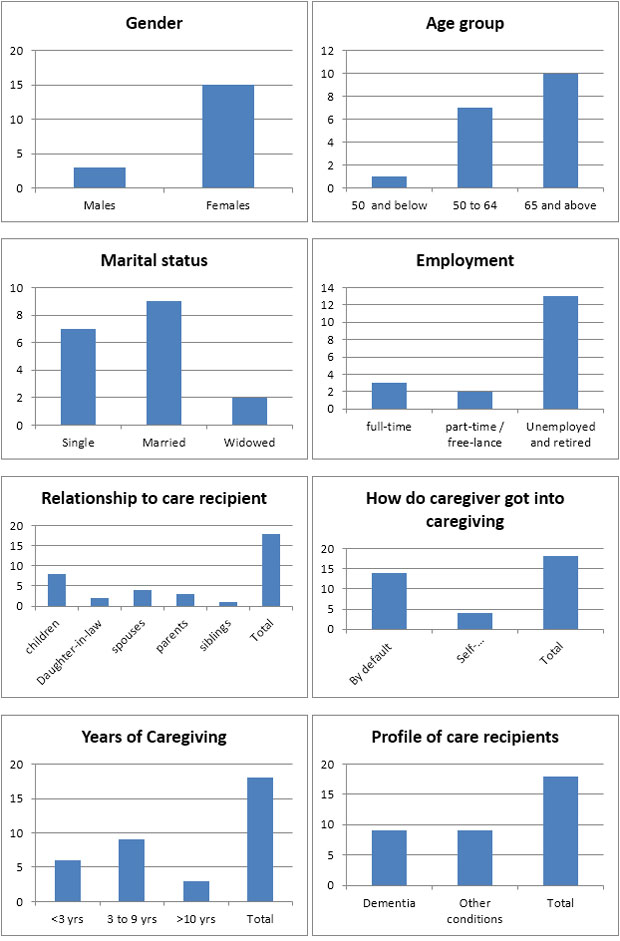 The Key Findings
Common sentiments voiced by caregivers during the discussions include 'tiring', 'frustrating', 'patience', 'grateful', 'fulfilling' and 'sadness'. While we generally know of the caregiving journeys as physically and emotionally draining, it is heartening to hear caregivers themselves expressing positive impacts of gratefulness and fulfilment. Gratifications can be felt through simple expressions of care and concern from the care recipients to caregivers, or simply through improvements in conditions of the care recipients.
Happiness can be found in little things…
Through the discussions, we learnt from caregivers that difficult moments during caregiving are characterised by feelings of loss, confusion and helplessness, in understanding the needs and wishes of care recipients' or even in alleviating their suffering – especially so in caregivers caring for people with dementia. They also expressed the fear and anxiety felt over the deteriorating conditions of the care recipient and possibility of causing harm to them, as well as the lack of support to caregive from other family members. These all appeared to have also led to drastic changes in the lifestyles of the caregiver.
For one participant, the caregiving burden led to significant weight loss, sleeplessness and poor eating. For another, caregiving inevitably led to giving up full-time work.
"How can I go forward when I don't know which way I'm facing?" – John Lennon
Many caregivers sought knowledge about their care recipients' conditions from medical professionals, as well as caregiver training to equip themselves with skills to provide care. Most of them also shared on the importance of resources for internal resilience, such as practicing self-care, and learning to be adaptive, flexible and creative in meeting the varied and unexpected challenges. While others resorted to support from family members, and external source of support, such as training, spiritual faith, friends, supportive boss and colleagues at work.
These reiterated the importance of caregiver support groups where caregivers can learn and share experiences and resource outlets with one another and be a source of support and comfort to one another – thus averting the sense of loneliness and helplessness.
"Caregivers are often the casualties, the hidden victims.
No one sees the sacrifices they make."
- Judith L. London
Feelings of familial responsibility and love are often quoted as the strongest driving forces but interestingly, some participants also felt that caregiving was a way for them to express their appreciation and gratitude towards their ageing parent. For some caregivers, the prospect of alternative care arrangements, such as a nursing home, remains unappealing, due to cost and concerns over lower quality care in such facilities, leaving care-at-home as their only option.
All in all, comprehensive understanding of their care recipients' conditions and the healthcare system was the most tangible gain to most caregivers in the discussion, as well as acquiring valuable caregiving skills and learning how to handle and cope with different situations. Many of them also reflected on changes to their own behaviour – such as discovering that they are more patient and understanding of their care recipient, and were able to communicate their feelings and needs better to other family members.
More qualitative conversations and quantitative studies are needed to better understand the challenges of caregiving, and how we can help caregiver in their journey with their care recipients – and this is what drove the C&C team to execute the discussions and share the findings at our Caregiving Research Workshop organised on 18 July 2019. Together with the other initiatives and partners of Tsao Foundation, we hope to do more to make caregiving journey a fulfilling and joyous one for Singaporeans.
Coping Strategies, from caregivers to caregivers:
Take care of yourself, for example, take steps to overcome low mood by sharing with friends, doing things that are enjoyable, and try to take things easy
Sharing with friends. It is important to open up and talk to others, including family and friends, and not keep everything to themselves
Make use of services to ease stress on yourself, like relying on Hua Mei services - day care, counselling and mobile clinic
Reliance on religion.
Notably, several participants also highlighted that a change in mind-set helped them considerably.
Participants also talked about adapting their own behaviours and expectations in order to cope.