Make A Donation
A gift of peace - The An Le Fund
The An Le Fund - a name meaning 'peace of mind' - was originally set up to benefit the frail and home-bound clients of our medical homecare service.
Today, the An Le Fund brings relief to a wider group of elders - any older person in need served by the community-based, medical and psycho-social primary healthcare programmes offered by the Hua Mei Centre for Successful Ageing (HMCSA) and Community for Successful Ageing (ComSA).
The typical recipient is above 65 years old, and living alone, or with poor family or social support.
Already poor, the cost of ill health and chronic disease is an added burden that they cannot afford.
They are the ones who 'fall through the cracks', being one way or another, unable to access the public services and benefits that they need in order to survive.
Through the foundation's initiatives, these elders receive medical and psycho-social healthcare and are linked to allied health and social care programmes, to have the opportunity to live in optimal condition within the community.
As is typical in Singapore, programmes from HMCSA and ComSA receive only partial funding from the government. That is why the An Le Fund is necessary to the continued care of our clients in need.
Donations to the An Le Fund are tax-exempt in Singapore as the Tsao Foundation is a Singapore-registered charity with an Institution of a Public Character (IPC) status.
Both personal and corporate donations are welcome. You can choose to make a one-time, or a regular donation.
For online donation, please click here https://www.giving.sg/tsao-foundation.
For PayNow donation, please scan the QR code using your mobile i-Banking application.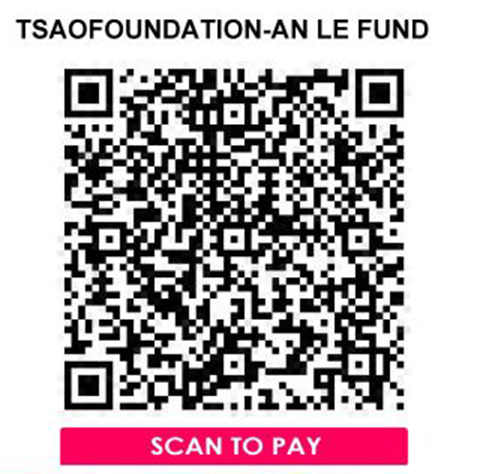 Log in to your respective bank (online banking or mobile banking app) and click on the PayNow icon.
On Unique Entity Number (UEN), key in 199302114W768. "Tsao Foundation An Le Fund" will automatically appear if UEN is keyed in correctly.
Enter your desired donation amount.
If you wish to receive tax exemption, kindly indicate your Full Name & Full NRIC/FIN/UEN in the reference number field. Please note that there will not be any tax exemption if you do not provide your NRIC/FIN/UEN at point of donation. Do note that we will not be able to issue official receipt for donation made via PayNow.
For cheque donation, please write a crossed cheque to 'An Le Fund' and use the attached form to fill in your particulars.

Mail both to:
An Le Fund
298 Tiong Bahru Road
#15-01/06 Central Plaza
Singapore 168730
(Please write your name, address, NRIC number and contact number at the back of the cheque.)
If you wish to discuss other ways of gifting, please contact info@tsaofoundation.org