Centre-based Comprehensive Care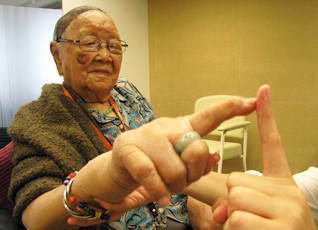 Too often, it is assumed that the nursing home is the only and best place for an older person with multiple medical and social care issues. It is not necessarily so. Hua Mei EPICC was started to help older persons who want to continue living in the community in spite of their multiple chronic medical conditions, physical frailty and weak family and social support network. In its essence, EPICC is team-managed, person-centred, integrated comprehensive care, with a day club programme.
EPICC is the only programme of its kind in Singapore to accept elders who do not have a dedicated caregiver at home. As such, it meets the needs of some of the most under-served older persons among us. It is modelled on the widely accepted American-originated Program of All-inclusive Care for the Elderly (PACE).
EPICC's three-year pilot programme which started in 2011, includes a randomised control trial (RCT) to assess the service's medical and social impact. Because the research study has started, we are unable to enrol more people into the formal pilot programme, but some degree of participation may be possible. Please check with us.
EPICC participants are brought to the Hua Mei Centre each day of the programme. We fetch the elders from their homes, preparing them for the day if necessary, and make sure they are safely back in their homes at the end of the day.
At the Centre, where they spend 6 hours each programme day, participants receive medical care and physiotherapy, engage in stimulating activities, and find social support. Their attendance at the day club supports person-centred care delivery. It enables us to monitor closely their physical, emotional and social situations. Whenever they are unable to attend, the team delivers critical medication to them. They also have 24-hour medical emergency coverage, and home-help when there are no alternatives.
EPICC is team-managed: every member serves a critical role in delivering the comprehensive and integrated services necessary to the elder's wellbeing. The team comprises a physician, nurse, social worker, physiotherapist, occupational therapist, day centre manager, programme assistants, administrative assistant, and driver.
We provide:

•
Day club programme inclusive of transport and meals
•
Medical and nursing care
•
Physiotherapy
•
Social engagement activities and outings
•
Medication delivery and home help services when critical
We serve persons who are:

•
aged 60 years and above
•
classified as 'high Category 2 - Category 3' under the Residence Assessment Form (RAF), and as such are eligible for community care or nursing homes
•
who are not bed-bound, do not have infectious/ communicable diseases, dementia and behavioral problems; and are not undergoing dialysis treatment, radiotherapy or chemotherapy
•
meet means testing to be eligible for 40% state subsidies*
•
living in the vicinity of Tiong Bahru*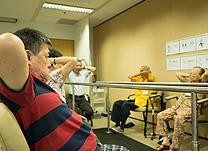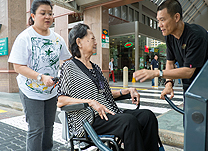 How to refer:
The 3-year EPICC pilot programme with randomized control trial is now closed. It took referrals from Alexandra Hospital and Singapore General Hospital.
However, we have limited places for private paying clients who fit the medical profile, and do not require state subsidies and transport within our immediate neighbourhood.
Fees:
$90 per day or $1700 per month for day club attendance and packaged services